Alpha-Mould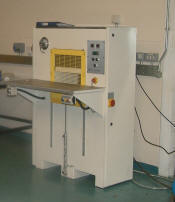 One of our New presses at a university
30 Ton Floor standing press Pushbutton control for open and close , front table and sliding guard. Fitted with 300mm electrically heated platens 0 - 350c - with cooling
pressure range is 2 to 30Tons'
Fully integrated hydraulics - a simple ' Plug in and and GO' solution for any industry
Alpha-Mould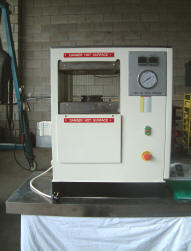 Alpha-Mould bench series
40 Ton bench mounted press Pushbutton control for open and close fitted with 400mm electrically heated platens 0 - 350c - options for cooling
pressure range is 10 to 40Tons'
Plug and GO'
Micro-Mould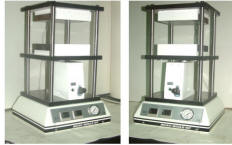 . Manual lab press - . Micro-Mould bench series with Hand lever control. Electrical heating control self contained and compact design. Platen sizes from 100mm x 100mm to 300x300mm with variable daylight. Pressure range 5, 6,10 and 15tonnes
Rebuilt 30T Laboratory press Fully remanufactured in 2011 and as new with full warranty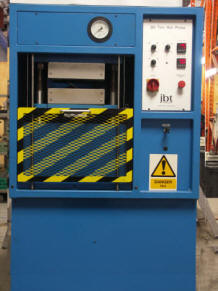 30t JBT Laboratory press
300x300mm square heated Platens, Platens are Heated and cooled with air blast .designed for 0 - 280'C but we can fit new high temperature platens 0- 400C if required. This machine is as new. fitted with inbuilt extractor hood, Fully enclosed with front sliding guard, pushbutton / switch control for open and close. Adjustable pressure, Hydraulic pump set built into base of unit, A relly nice press for production, development or the lab.400v 3 phase approx 20Amp.
Simple plug in and go.
.Rebuilt 25Ton Bench mounted Laboratory Press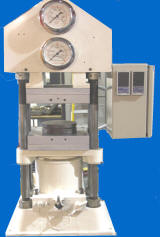 Electrically heated platens with water cooling , Platen size is 10" (250x250mm) Stroke 150mm Approx Adjustable top Daylight of 0 - 280mm approx 4" dia ram - High and low pressure gauges for accurate pressure control
Ideal for plastics, composites rubber etc, Excellent condition, and ready to go . .
Rebuilt 20Ton Floor standing Laboratory Press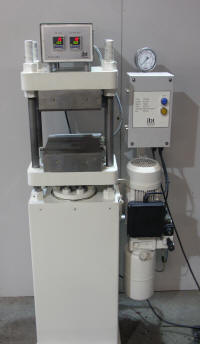 200mm Heated platens,
Pushbutton control for open and close. New electrics and hydraulics temperature range 0-250'C
4" Dia ram. 20 Ton Max. Plugs into standard 3pin wall socket.
we also have one available with a hand-pump call for info
Micro-Mould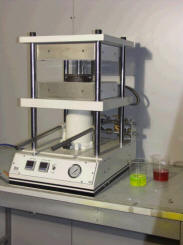 400x400mm 20T version of our Micro-mould press - in use at a French Agriculture laboratory. 'Plug and GO'
Alpha-Mould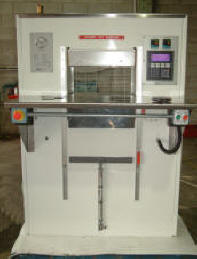 Advanced version of Automatic lab press ideal for composites - Aerospace research, pharmaceuticals etc Temperature range 0- 500c with cooling and variable pressure / position profiles. Platen sizes from 200x200mm up to 500x500mm -Also available with cooling..
Alpha-Mould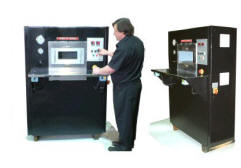 Hot press with Vacuum supplied to world leader in new battery technology and research . Options include programmable cycle recipes for temperature - pressure - tool etc. Platen sizes 300 sq + 400sq with or without cooling - can be customised to suit your process..
Alpha-Mould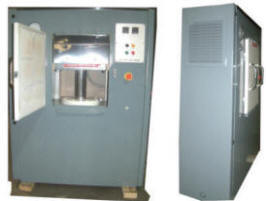 Fully Insulated 40Ton Press temperature range 0 - 600'C with removable door and gas injection into test samples
Used 25T press ex university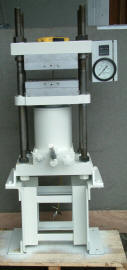 Alpha-Mould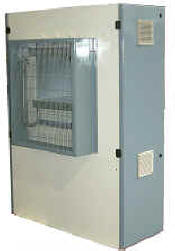 'Plug and GO' .
The compact Lab range are Fully Guarded with Nice clean lines - Totally self contained