JBT Engineering can either build new - refurbish your existing or source and rebuild any mill or calendar to suit your needs. We have Let us refurbish your Mills and Calendars

JBT Engineering operates a service facility for two roll mills and calendars where we can remove the rolls and carry out re-furbishing of the main bearings regrinding of the roll journals for both hot or cold applications. We can convert some mills into roller Bearings - where the customer sees an immediate reduction in running costs - a real saving in terms of energy.

We can also carry out reversing of all worn gearing to run on the unworn face of teeth or we can supply and install new gearing where this is not possible - we also provide refurbishment or retro fit of lubrication pumps and piping. This work can be done as planned maintenance to coincide with a shutdown or on a breakdown basis.

CLICK HERE TO contact us for further information.
Rebuilt 84" mill with hydraulic Nip adjustment. Variable speed dc drive and new electrical drive/ control package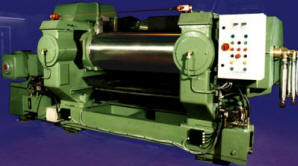 Remember we do Upgrades, Spares and Repairs

New breaker pads for 60" Mill